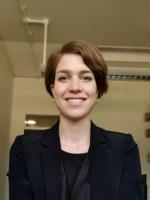 Career
since June 2022: Postdoctoral Researcher at DAMTP, University of Cambridge, UK
2021-2022: Postdoctoral Researcher at ICTP, Trieste, Italy
2020-2021: Postdoctoral Researcher at ITP, Leipzig University, Germany
2020: PhD in Physics at Technical University of Berlin, Germany
Research
Sarah is holding a Marie-Curie Fellowship and is a member of the Soft Matter group at the Department of Applied Mathematics and Theoretical Physics.
Her current research interests include stochastic thermodynamics, non-Markovian processes, and active matter.
Her full CV can be found here: https://sarahloos.de/files/CV_SarahAMLoos.pdf
Measurement of scale-dependent time-reversal asymmetry in biological systems.
Nonreciprocal forces enable cold-to-hot heat transfer between nanoparticles.