Background and Motivation
Theoretical physics is the effort to create mathematical models that describe phenomena in nature and to make predictions with these models that can be tested through experiment and observation. The standard model (SM) of particle physics and Einstein's theory of general relativity (GR) are the two main pillars of modern day theoretical physics that provide us with a magnificent framework to understand much of what we see in the universe. From the microscopic regime of elementary particles colliding near the speed of light at the Large Hadron Collider at CERN to the gravitational wave symphony of black holes and the cosmological evolution of the observable universe itself, the model gives us highly accurate predictions that have been verified in numerous experiments and observation programs.

And yet, there are gaps in this exquisite picture and indications that something is not quite right or, at least, incomplete about our understanding of the world of physics. None of these observations are in direct conflict with the SM+GR model, but they require us to add increasingly enigmatic ingredients to the model. For example, galactic rotation curves, strong gravitational lensing and precision measurements of the cosmic microwave background cannot be explained in terms of the visible matter. Either we accept the existence of an unknown form of dark matter, whose form we can, at present, not satisfactorily explain within the standard model of particle physics, or we are prepared to modify the laws of gravity beyond Einstein's relativity. Likewise, the accelerated expansion of the universe calls for an even more exotic substance dubbed dark energy or, equivalently, the introduction of a cosmological constant (the very constant Einstein introduced himself but later discarded as "the biggest blunder of his life"). By now, the cosmological constant is regarded as a perfectly legitimate ingredient in Einstein's theory, but its value is problematic. The value it needs to have to explain observations in cosmology is about 60 orders of magnitude smaller than expected from the zero-point energy predicted by the standard model of particle physics. Further chinks in the armor of the SM+GR model include the hierarchy problem of physics, i.e. the extraordinary weakness of gravity relative to the other forces of nature, and the seeming irreconcilability of general relativity with quantum theory. These questions are deeply related to the nature of gravity and the quest for answers forms the core of our RISE project "Strong Gravity and High-Energy Physics".

When Isaac Newton presented his theory of the gravitational interaction in the 1680s, he had developed the first ever comprehensive scientific theory of a fundamental physical interaction in mathematical terms. The power of the Newtonian Theory of Gravity is so enormous that it has even been used in many applications in the 20th and 21st century including, as a most dramatic and successful example, the Apollo moon landing in 1969. It may seem surprising therefore, that gravitation remains to this day the most enigmatic of the four fundamental forces of nature. Over the course of the 20th century, the other three forces (electromagnetism, the strong and the weak nuclear force) have been combined into a joint framework that has passed a wealth of experimental tests and underlies much of modern technology -- this is the standard model of particle physics. However, all efforts to bring Gravity into this family have not yet succeeded. It is for this reason that we speak of the SM+GR model rather than one single theory encompassing all four interactions. And indeed, there is something special about gravitation that has already been noticed as early as the turn of the fifth century by Philoponus and later on by Galileo, Newton himself and eventually Einstein.

All forces in nature can be regarded as the effect of a "charge", best known to us in the case of the electric charge that drives our computers, televisions, chemistry and our own bodies. Also, all objects have inertia, the higher their inertia, the stronger a force is required to change the object's state of motion. This inertia is a characteristic of a body that has nothing to do with its electric charge nor with its characteristic charge for the weak and strong nuclear forces. But, and that's the critical point, the inertia happens to be exactly the same as the gravitational charge: the inertial mass of any body is exactly the same as its gravitational mass. This fact underlies the well-known feature that all bodies fall the same way, as demonstrated by astronauts on the moon when they dropped a feather and a hammer. This special feature lead Einstein to the revolutionary (but now ubiquitously accepted) idea that gravity is not really a force at all and not even a feature of any particular body but is a quality of the fabric of space and time the bodies move in -- this is called the equivalence principle.

But even with Einstein's theory, we are left with the questions listed above. In our search for answers, we can now employ a new channel to observing the universe that only became available about two years ago: Gravitational waves. On February 11, 2016, the LIGO-Virgo Scientific Collaboration replaced US Presidential hopefuls in the newspaper headlines by announcing the first detection of gravitational waves which also provided the first direct observation of a black hole.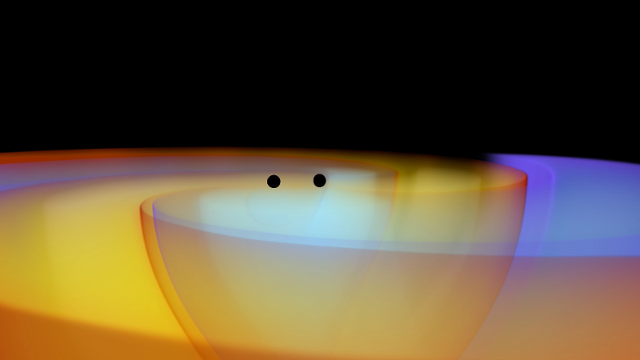 Snapshot of a numerical simulations of 2 black holes with parameters similar to the GW150914 event detected by LIGO during the inspiral phase. The gravitational waves are propagating outwards from the black-hole binary. (Courtesy of Markus Kunesch)
More specifically, the goals of our project can be summarized as follows. (1) What can we learn about the enigmatic dark matter from observing black holes? There is a wide variety of phenomena, such as runaway resonance effects in the interaction between dark-matter candidate fields and black holes, that may yield characteristic signatures in gravitational and electromagnetic radiation. (2) Are black holes really the specific class of objects described by general relativity or is there yet another twist to them? Gravitational waves are our best hope of testing this, and our computations search for differences between the radiation signal emitted by black holes and that from more exotic alternatives. (3) Can we directly observe the spacetime distortion created by black holes? This may be possible in the form of the shadow cast by a black hole and the obscuration or lensing of luminous objects located behind it. (4) How can we test whether Einstein's theory is also correct in the regime of extremely strong gravity? Do we need to generalize the theory? We calculate "smoking gun" phenomena that alternative theories of gravity predict for black holes, neutron stars or other astrophysical objects. (5) Our world has four dimensions, one time and three space directions. Or does it? There are suggestions that there may be extra dimensions inaccessible to anything but gravity. This would explain why gravitation is so weak in laboratory experiments. And it would predict potentially observable features in particle collisions at extremely high energy. Our simulations of black holes in higher dimensions will contribute to our understanding of what we would see if extra dimensions exist. Or maybe there is something special about four dimensions and universes with more dimensions would not allow for the evolution of intelligent beings capable of asking such questions.

From a practically minded viewpoint, one might wonder, of course, why we should pursue questions like this when immediate technical benefit is not obvious. All our historical experience, however, thunders a warning against such a narrow viewpoint: Fundamental research may at times be glacially slow in providing practical benefits, but in the end it always does and does so with the overwhelming power of a glacier. Quantum mechanics, for instance, is probably the most bizarre (and yet correct) theory ever designed by humans. But it now forms the foundation for all modern electronics, from rocket science to the smart phone. Number theory, arguably the purest form of academic exercise, was pursued as early as about 3000 years ago in antique Greece. All of modern encryption, however, would not exist without it. Secure internet trading and banking rely on number theory! General relativity itself found its way into a multi-billion Euro business: GPS type navigation would be of negligible practical use without the corrections of Einstein's theory. Furthermore, the fascination with astrophysics and the fundamental building blocks of our world has attracted over centuries young researchers, taking over and forming the next generation of leaders in science and technology. Carrying across this fascination to the public and to the young physics stars of tomorrow is a fundamental (and most rewarding) task and forms a second major goal of our project, besides our immediate research studies.