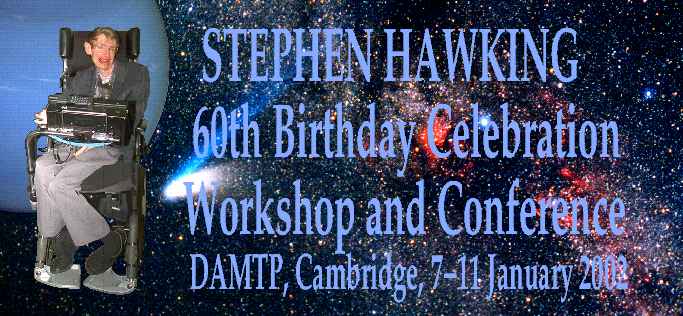 THE FUTURE OF THEORETICAL PHYSICS AND COSMOLOGY
Centre for Mathematical Sciences, Wilberforce Road, Cambridge CB3 0WA, UK
This conference marking Stephen Hawking's 60th birthday is in honour of his many major contributions to science. In the context of these achievements, the conference will focus on the future prospects for fundamental physics and cosmology over the next decades. It divides into a four-day scientific workshop (7-10th January 2002) for leading international practitioners in the field, followed by a symposium (Friday 11th January 2002) with public lectures by distinguished scientists. You can read about the conference in this month's issue of Plus, the award-winning online magazine. Please follow the links below for further information.

---
The Local Organising Committee would like to express their gratitude for the generous support of the following sponsors: Particle Physics and Astronomy Research Council, Dennis and Sally Avery, SGI (Silicon Graphics Computer Systems), London Mathematical Society, Clay Mathematics Institute, Gonville & Caius College, Trinity Hall and Cambridge University Press.

Please address queries to stephen60@damtp.cam.ac.uk.