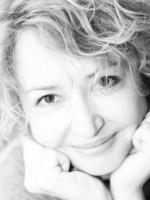 Career
2002-present 

DAMTP faculty member, since 2013 Professor of Applied Mathematics

2002-present Fellow of Jesus College, Cambridge
2013-2016 on leave, Professor, Director of Photonics and Quantum Materials Program,  Skolkovo Institute of Science and Technology, Russian Federation
1999-2002 PIC Assistant Professor, Department of Mathematics, the University of California in Los Angeles
1997-1999 UC President's Research Fellow, Department of Mathematics, the University of California in Los Angeles
Research
Natalia Berloff leads the Quantum Fluids Group. She is an applied mathematician with a range of research interests which focus on coherence in non-equilibrium quantum systems,  superfluidity, quantum fluids, Bose-Einstein condensates, quantum simulators based on atomic and solid-state condensates.
Selected Publications
http://www.damtp.cam.ac.uk/user/ngb23/publications.html
Multiply Charged Vortex States of Polariton Condensates
Artificial polariton molecules
– Physical Review B: Condensed Matter and Materials Physics
Discrete Polynomial Optimization with Coherent Networks of Condensates and Complex Coupling Switching.
Simulating the spectral gap with polariton graphs
Managing the flow of liquid light
Polaritonic XY-Ising Machine.
Formation and dynamics of quantum hydrodynamical breathing-ring solitons
Polaritonic XY-Ising machine
Complexity continuum within Ising formulation of NP problems.
Polaritonic network as a paradigm for dynamics of coupled oscillators