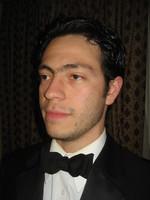 Research
Member of the Centre for Quantum Information and Foundations in the Department of Applied Mathematics and Theoretical Physics. Current research interests are Quantum Information, Quantum Cryptography, and Quantum Foundations.
Publications
My publications and preprints can be found on the arXiv or below.
Granted Patent
D. Pitalúa-García, "Method and system for spacetime-constrained oblivious transfer," US 10715319B2 (July, 2020).
Multiphoton and Side-Channel Attacks in Mistrustful Quantum Cryptography
Flexible quantum tokens in spacetime
One-out-of-$m$ spacetime-constrained oblivious transfer
Practical and unconditionally secure spacetime-constrained oblivious transfer
Spacetime-constrained oblivious transfer
Hyperdense coding and superadditivity of classical capacities in hypersphere theories
Bloch-sphere colorings and Bell inequalities
Quantum information causality.
– Physical Review Letters
Deduction of an upper bound on the success probability of port-based teleportation from the no-cloning theorem and the no-signaling principle
Practical quantum tokens without quantum memories and experimental tests