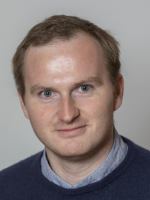 Dr Roberts is Senior Research Associate of Applied Mathematics at DAMTP and member of the Cambridge Image Analysis group (CIA) and leads the algorithm development team for the global COVID-19 AIX-COVNET collaboration, see https://covid19ai.maths.cam.ac.uk/.
Career
Positions:
since April 2021: Senior Research Associate at DAMTP, University of Cambridge, UK.

March 2020 to March 2021: Research Associate at DAMTP, University of Cambridge, UK.

since April 2019: Postdoctoral Fellow at AstraZeneca, Cambridge, UK
Education:
July 2019: Doctor of Philosophy, University of Liverpool, UK

June 2015: Master's degree in Mathematics with Honors, Durham University, UK
Research
Dr Roberts' research interests focus on variational methods for image processing (in particular image segmentation and registration), machine learning for image and data analysis, image processing and data analysis. He has active interdisciplinary collaborations with other applied mathematicians, computer scientists and clinicians focussing on medical imaging problems. He has vast experience in studying medical imaging problems for lung diseases including (but not limited to) lung cancer, idiopathic lung fibrosis, mesothelioma and drug induced interstitial lung disease.