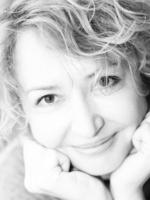 Career
2002-present 

DAMTP faculty member, since 2013 Professor of Applied Mathematics

2002-present Fellow of Jesus College, Cambridge
2013-2016 on leave, Professor, Director of Photonics and Quantum Materials Program,  Skoltech
1999-2002 PIC Assistant Professor, Department of Mathematics, the University of California in Los Angeles
1997-1999 UC President's Research Fellow, Department of Mathematics, the University of California in Los Angeles
Research
Natalia Berloff leads the Quantum Fluids Group. She is an applied mathematician with a range of research interests which focus on coherence in non-equilibrium quantum systems,  superfluidity, quantum fluids, Bose-Einstein condensates, quantum simulators based on atomic and solid-state condensates.
Selected Publications
http://www.damtp.cam.ac.uk/user/ngb23/publications.html
Managing the flow of liquid light
Managing Flow of Liquid Light
– Physical Review B: Condensed Matter and Materials Physics
Formation and Dynamics of Quantum Hydrodynamical Breathing Ring Solitons
Polaritonic XY-Ising machine
Polaritonic XY-Ising machine
Multiply Charged Vortex States of Polariton Condensates
Complexity continuum within Ising formulation of NP problems.
Polaritonic network as a paradigm for dynamics of coupled oscillators
Nonlinear systems for unconventional computing.
Polaritonic network as a paradigm for dynamics of coupled oscillators
– Physical Review B: Condensed Matter and Materials Physics