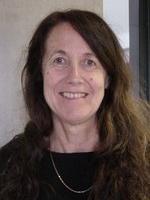 Career
1974-1976: Research Fellow, Girton College, Cambridge
1976-present: Official Fellow, College Lecturer and Director of Studies in Mathematics, Girton College
1991-1994: Temporary Lecturer, DAMTP, Cambridge
1994-2002: Assistant Director of Research, DAMTP
2002-present: Reader in Mathematical Physics, DAMTP
Research
Discrete gravity, both classical and quantum, mainly based on Regge calculus; spin foam models. The role of holonomy in quantum gravity. The variation of Newton's constant.
Selected Publications
Discrete structures in physics, J. Math. Phys. 41 (2000) 3964-3984 (with T. Regge).
6j-symbols and discrete quantum gravity, Nucl. Phys. B (Proc. Suppl.) 88 (2000) 124-131.
Flat and curved space-times: Second edition, Oxford University Press (2000) (with G. F. R. Ellis).
Gluing 4-simplices: a derivation of the Barrett-Crane spin foam model for Euclidean quantum gravity, Phys. Rev. D63 (2001) 024022 (with D. Oriti).
Constraints on area variables in Regge calculus, Class. Quantum Grav. 18 (2001) L43-46 (with J. M\"akel\"a).
Non-perturbative gravity and the spin of the lattice graviton, Phys. Rev. D70 (2004) 124007 (with H. W. Hamber).
Area Regge calculus and discontinuous metrics, Class. Quantum Grav. 21 (2004) 4865-4880 (with C. J. Wainwright).
Nonlocal effective gravitational field equations and the running of Newton's constant G, Phys. Rev. D72 (2005) 04426 (with H. W. Hamber).
Nonlocal effective field equations for quantum cosmology, Mod. Phys. Lett. A 21 (2006) 735 (with H. W. Hamber).
Quantum gravity in large dimensions, Phys. Rev. D73 (2006) 04403 (with H. W. Hamber).
Discrete quantum gravity, Journal of Physics: Conference Series 33 (2006) 38-48.
Bertha Swirles Jeffreys, in Out of the Shadows: Contributions of Twentieth-Century Women to Physics, edited by Nina Byers and Gary Williams (CUP, 2006).
Constraints on the gravitational scaling dimension from the non-local effective field equations, Phys. Lett. B643 (2006) 228 (with H. W. Hamber).
Renormalization group running of Newton's G: the static isotropic case, Phys. Rev. D75 (2007) 084014 (with H. W. Hamber).
Gravitational Wilson loop and large scale curvature, Phys. Rev. D76 (2007) 84008 (with H. W.Hamber).