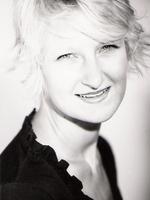 Professor Schönlieb is Professor of Applied Mathematics at DAMTP and head of the Cambridge Image Analysis group (CIA). Moreover, she is the Director of the Cantab Capital Institute for the Mathematics of Information (CCIMI) and Director of the EPSRC Centre for Mathematical and Statistical Analysis of Multimodal Clinical Imaging (CMIH), a Fellow of Jesus College, Cambridge and co-Chair of the Cambridge Centre for Data Driven Discovery (C2D3). Currently I am also chairing the SIAM activity group on Imaging Sciences and the Applied Mathematics Committee of the European Mathematical Society (EMS).
Career
Positions:
since October 2018: Professor at DAMTP, University of Cambridge, UK.
October 2015 to September 2018: Reader at DAMTP, University of Cambridge, UK.
since October 2011: Fellow of Jesus College, Cambridge, UK.

September 2010 to September 2015: Lecturer at DAMTP, University of Cambridge, UK.

September 2009 to September 2010: Postdoc at NAM (Institute of Numerical and Applied Mathematics), Georg-August University Goettingen, Germany.

October 2008 to September 2009: Research Assistant at DAMTP, University of Cambridge.

October 2005 to October 2008: Research Assistant at the Faculty of Mathematics, University of Vienna, Austria.

September 2002 to June 2004: Research Assistant at the Department of Mathematics, University of Salzburg, Austria.
Education:
July 18, 2009: Admission to the degree Doctor of Philosophy, University of Cambridge (UK)

January 30, 2004: Master's degree in Mathematics with Honors, University of Salzburg (Austria)
Honors and Awards:
2020: Wolfson Fellowship, Royal Society UK.
2019: Calderón Prize, Inverse Problems International Association.
2017: Philip Leverhulme Prize.
2016: Whitehead Prize, London Mathematical Society.
2013: EPSRC Science Photo Award, 1st Prize in the Category People.

2008: Mary Bradburn Award from the BFWG.

2004: Scholarship from the University of Salzburg (Austria) for exceptional achievements as a student

2002: Hans-Stegbuchner-Award from the Department of Mathematics, University of Salzburg (Austria).
Research
Professor Schönlieb's research interests focus on variational methods, partial differential equations and machine learning for image analysis, image processing and inverse imaging problems. She has active interdisciplinary collaborations with clinicians, biologists and physicists on biomedical imaging topics, chemical engineers and plant scientists on image sensing, as well as collaborations with artists and art conservators on digital art restoration.. More details the website of her research group, Cambridge Image Analysis (CIA).
Task adapted reconstruction for inverse problems
Learning optical flow for fast MRI reconstruction
Equilibria of an anisotropic nonlocal interaction equation: Analysis and numerics
– Discrete and Continuous Dynamical Systems
Equivariant neural networks for inverse problems.
Choose Your Path Wisely: Gradient Descent in a Bregman Distance Framework
– SIAM Journal on Imaging Sciences
HERS Superpixels: Deep Affinity Learning for Hierarchical Entropy Rate Segmentation.
Structure-preserving deep learning
– European Journal of Applied Mathematics
Mechanisms Underlying Vascular Endothelial Growth Factor Receptor Inhibition-Induced Hypertension The HYPAZ Trial
– Hypertension (Dallas, Tex. : 1979)
Adversarially Learned Iterative Reconstruction for Imaging Inverse Problems
– Lecture Notes in Computer Science (including subseries Lecture Notes in Artificial Intelligence and Lecture Notes in Bioinformatics)
A deep-learning pipeline for the diagnosis and discrimination of viral, non-viral and COVID-19 pneumonia from chest X-ray images.