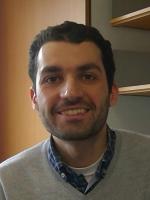 Career
2016-date: University Lecturer, DAMTP, University of Cambridge, UK
2016: PhD at MIT
Research
Convex optimisation and applications
Selected Publications
Please see my publications page
Teaching
The Set of Separable States has no Finite Semidefinite Representation Except in Dimension $3\times 2$
– Communications in Mathematical Physics
Geometric Rényi Divergence and its Applications in Quantum Channel Capacities
On Polyhedral Approximations of the Positive Semidefinite Cone
Defining quantum divergences via convex optimization
Computing conditional entropies for quantum correlations.
Defining quantum divergences via convex optimization.
The sum-of-squares hierarchy on the sphere and applications in quantum information theory
– Mathematical Programming
On representing the positive semidefinite cone using the second-order cone.
Learning dynamic polynomial proofs.
– Advances in Neural Information Processing Systems
Semidefinite Approximations of the Matrix Logarithm.
– Foundations of Computational Mathematics